Ros has been busy as normal this year and  she has participated in a number of activities which have been recorded. These recordings are available for you to view online.
A 12 part series, Finding God (in the chaos of our changing world), was recorded for Shalom World TV from May to August 2022.
You can be viewed all 12 parts through the Shalom World TV app or on the Shalom World TV website.
Click on the following  link to view all 12 episodes: https://www.shalomworld.org/show/finding-god
Or Search for Ros Powell on the app or website.
Ros has been interviewed on a number of occasions by Shekinah Glory TV and you will find these recordings by going to https://shekinaheurope.org/
Or got to Shekinah Europe YouTube channel and search for Ros Powell: Click here to view
Ros has recently spoken to Shekinah Glory TV about her mission and prophetic intersession. This recording will be aired on Shekinah Glory TV in December 2022.
Plans for 2023
11st & 12th February 2023.
Ros is speaking and ministering in Cork Ireland 11st & 12th February 2023.
The Theme is "and the greatest of these is love" – (1Cor. 13:13)
Click here to get details of the material covered during the event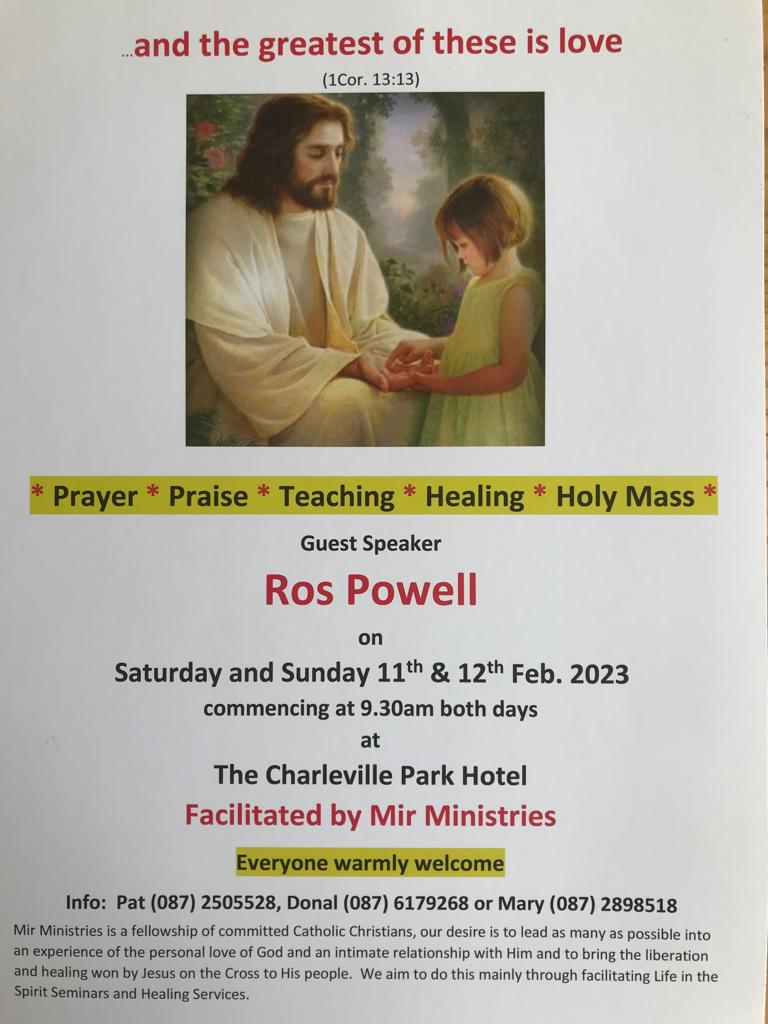 Saturday and Sunday 11th & 12th Feb. 2023 commencing at 9.30am both days
at The Charleville Park Hotel, Limerick Rd, Rathgoggan North, Charleville, Co. Cork, Ireland
Facilitated by Mir Ministries
Everyone warmly welcome
Info:  Pat (087) 2505528, Donal (087) 6179268 or Mary (087) 2898518
Click here to get details of the material covered during the event
New Dawn Conference
Ros is speaking at New Dawn Conference this year.
Ros is also leading the morning intercession as in previous years